Netball Umpiring - Isla Redgrave and Grace Moir
Netball Umpiring - Isla Redgrave and Grace Moir
Isla Redgrave and Grace Moir recently attended the South Island Secondary Schools (SISS) Netball Championships in Invercargill as netball umpires.
This is a large competition for all secondary schools in the South Island and is the pinnacle event of the year, not only for the players, but also for secondary school aged umpiring officials.
Every netball team must supply an umpire. That umpire and invited umpires, which included International and ANZ premiership umpires, are then assigned games that are reflective of their skills and experience.
Throughout the whole tournament umpires are assessed on their technical game skills and tutored by the South Island Secondary School Umpiring panel.
Isla and Grace were appointed to many A and B grade games and the experience for both of them was invaluable.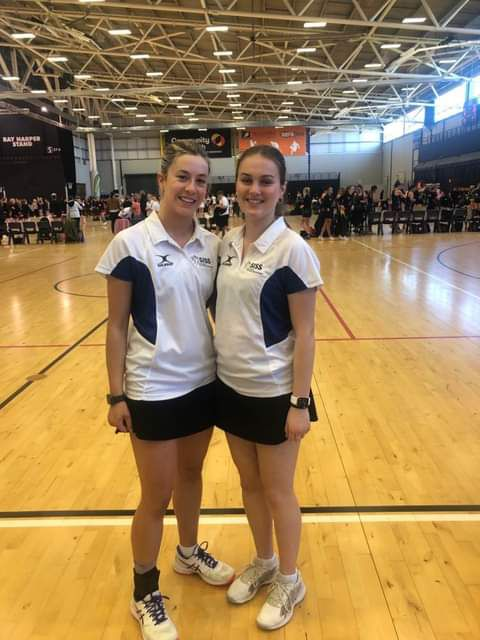 Grace Moir and Isla Redgrave
Grace was assessed and passed her Zone Practical Award. For nearly all secondary school aged umpires this is the highest qualification you can achieve. For some tournaments it is a perquisite for attending. It usually requires a minimum of 4 years experience not only at the centre level but at representative aged group tournaments in your zone. Grace has worked so hard and put in so much time to achieve this.
Congratulations Grace!
It is highly unusual (if not unheard of) to have two umpires from the same school now with their Zone Award. Isla received this qualification earlier in the netball season. It is a testament to the dedication and comradery of these two that it is even possible. They are both excellent representatives of the school, centre and the region.
Congratulations also to Isla!
Five South Island secondary school umpires talent are identified each year by the SISS Umpire Coaching Panel and Isla was named as one of those. It is one of the highest accolades you can achieve in netball umpiring whilst still at school. It means Isla has been identified as having potential to move onto the Netball New Zealand high performance pathway. Isla was the only one named from the Netball South Zone (which includes all of Southland, Otago and Central Otago).
Next year Isla will be mentored at the Dunedin Netball Centre with the aim of moving up the netball umpiring ranks.
Thanks to Dunstan High School Netball for championing the role of officials in sport!
This article was originally posted on: September, 7th 2023